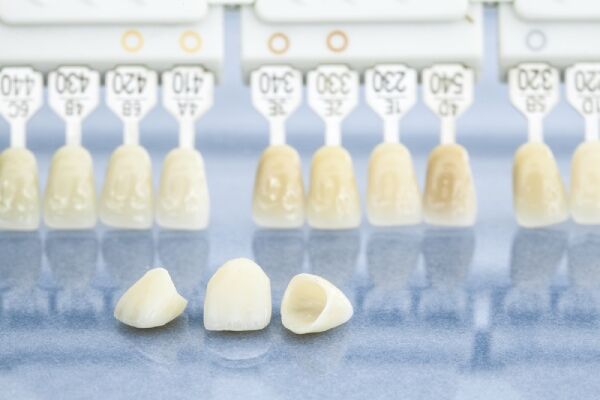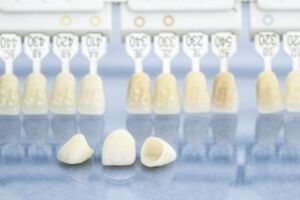 What are Veneers?
Dental Veneers are thin shells of porcelain that's placed on your tooth. They're most often utilized for cosmetic purposes; used to alter your tooth's shape, alignment, and colour.
Do you have teeth that are stained in a way that teeth whitening can't fix? Maybe you have gaps in your teeth that can't be fixed through orthodontic interventions, like braces?
In either of these cases, and in many more, veneers may be the right solution to restore your smile . Our porcelain veneers can be used for a cosmetic procedure, as well as restorative dentistry.
The process for applying is simple. They're custom-fitted, and made to match the colour of your natural teeth. The front layer of natural tooth enamel is removed from your tooth, then the veneer is applied over two visits to our dental clinic in Edmonton AB.
Porcelain Dental Veneers for Cosmetic Dentistry
Our cosmetic dentistry service for custom veneers provide improvement to cosmetic flaws and dental imperfections such as:
Discoloured and stained teeth
Chipped, broken, misshapen, and misaligned teeth
Uneven and unwanted gaps between teeth
The porcelain veneers that we offer at our dental clinic can be used to address many concerns. They do not, however, act as a cure for tooth decay, gum disease, and other oral health issues. Those dental services will have to be treated before the porcelain veneers can be applied.
A porcelain veneer is an excellent choice for circumstances when tooth whitening alone can't address cosmetic concerns.
Porcelain Dental Veneers for Improved Function
While most people think of porcelain veneers as a dental treatment to enhance the look of their teeth, they can improve the function of your smile, too.
Our veneers in Edmonton can be used to reinforce tooth enamel that's been weakened through wear and tear improving a healthy tooth structure. They can also improve the feel of your bite by straightening the front of crooked teeth.
Veneers – A Lifelong Commitment
This means it's absolutely essential to care for your porcelain veneers. You should also make a point of getting a dental cleaning and exam at least twice a year, unless your dentist recommends you only come in once a year.
Consult with our Edmonton dentists before committing to veneers. In some circumstances, there may be alternative treatments available, from teeth whitening to orthodontic interventions.
Don't worry, though – veneers are quite easy to care for, and they last for a long time. Our porcelain veneers will often last 10 to 15 years with adequate care.
Caring for Veneers
The best part about caring for veneers is that the process is exactly the same as caring for your teeth normally. Floss once a day, and brush twice a day, paying special attention to the teeth that have veneers on them.
You'll also want to avoid drinking certain liquids that can stain your veneers, like black coffee and red wine. You can always sip through a straw (if you like your coffee iced) to avoid staining your teeth.
Avoid chewing very hard foods with teeth that have veneers on them. Jawbreakers and porcelain don't mix.
Replacing Old Veneers
After 10 to 15 years, even well cared for veneers may start to stain or crack. Fortunately, veneers are getting better and better, and the process to replace old veneers is as simple as getting new ones.
Call Us to Schedule an Appointment
If you're ready to improve the look and function of your teeth, our custom veneers may be the right option. Contact our Edmonton dental office at 1-(780)-474-4887