Restorative Treatment in Edmonton, AB
Do you have a toothache that just won't seem to go away? Are you having a hard time chewing because you're missing a tooth? Did your child chip a tooth playing sports?
In any of these cases, you'll need restorative dentistry. It's one of the dental services we offer here at Kingsway Dental Centre. We'll restore the feel and function of your teeth, so you can live better.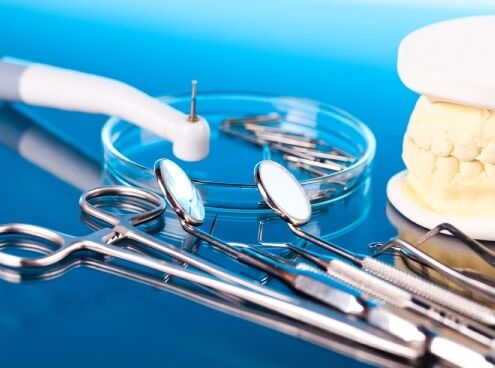 What is Restorative Dentistry?
Restorative dentistry is any form of dentistry which restores the function of your mouth. That means it includes any work that treats missing, misaligned, and damaged teeth.
Improving your oral health is the main goal of restorative dentistry, and it includes procedures like:
Treating and filling cavities (caries)
Dental sealants for cavity prevention
Fixing chipped teeth
Replacing missing teeth
At our clinic, we know your smile is more than just functional – you want to look great and feel great. That's why we take aesthetics into account. We restore function and form.
Why is Restorative Dentistry Important?
Without restorative dentistry, patients can experience discomfort. This discomfort can grow worse if no restorative treatment is performed.
The importance of restoration goes beyond discomfort. When cavities aren't treated, it can result in lost teeth. Missing teeth can lead to bone loss around the jaw, and problems with the bite as teeth shift to fill the gap.
These problems can continue to escalate until drastic interventions are needed. Speech impediments, infections, and other serious health concerns can arise when the mouth's function isn't properly restored.
Restorative dentistry is one of the most important parts of the practice.
Dental Decay (Caries)
Cavities, also known as dental decay or caries, are a serious concern! At their mildest, they can begin to cause toothaches and discomfort. At their worst, they can lead to root canal procedures and tooth loss.
If you're experiencing the symptoms of a cavity, get in touch with us. Our dentists will clean out the cavity, and use specialized dental filling to restore your tooth.
Dental Sealants
Want to reduce your risk of cavities, or reduce your child's risk of cavities? Dental sealants are an excellent solution.
Dental Restorations
When your tooth is chipped, cracked, or otherwise damaged, we can use fillings to restore the feel and function of your tooth. When fillings won't do the trick, we can use a crown instead.
Composite Restorations (Composite Fillings)
Composite resin in the material we use for most of our dental restorations. We love it because it's incredibly durable – but it looks almost exactly like your natural tooth. Unless you work in a dental office, you won't be able to tell the difference!
Other Restorative Options
Our dentists can help restore your teeth and mouth with a wide variety of state-of-the-art dental services. There are several different treatment plans available, depending on the restoration required.
Dental Implants
If you're missing a tooth, a dental implant may be right for you.
Dental implants are a safe and effective way of replacing missing teeth. Using a titanium rod as the root, the dental implant is secured in your jawbone. An artificial tooth is placed on the root.
The artificial tooth looks and feels like a natural tooth. Implants are a great way to restore function to your mouth – they improve the appearance of your smile, help you chew, and prevent your teeth from shifting.
We custom fit all of our implants, so the one you get is uniquely suited to you.
Dental Crowns
Dental crowns can be used when the tooth is too damaged to fix with dental filling, but still strong enough that it doesn't need to be extracted.
A dental crown is placed over top of the tooth – that's where it gets its name. Our crowns look and feel like normal teeth, and can drastically improve patient comfort – all while restoring function to your mouth.
Dental Bridges
When one of your teeth is missing, but the teeth beside it are healthy, we can use a dental bridge. The teeth on either side of the gap left by the missing tooth act as anchors, and a natural feeling artificial tooth is anchored in the gap.
Our bridges, like our implants, are custom-made by our dentists to fit your mouth. They'll improve your oral health – and often at a fraction of the cost of an implant.
Call to Schedule an Exam
Restorative dentistry is important. We treat our patients with care, compassion, and skill. If you're ready to say goodbye to discomfort, restore function to your mouth, and live better, call our dental clinic today. Phone Number: 1-(780)-474-4887